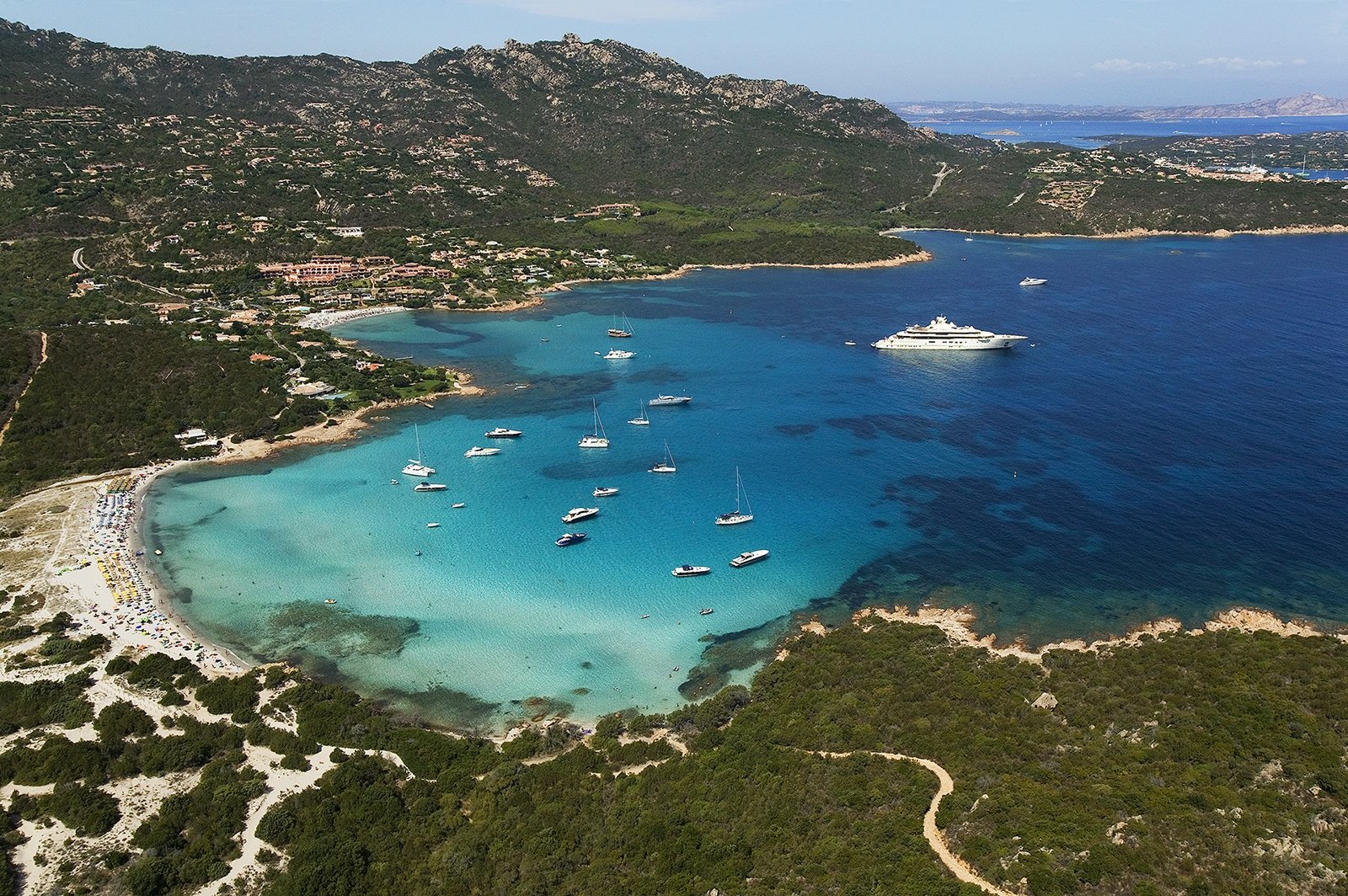 FINDEN SIE IHR HAUS IN SARDINIEN
Die Marke der Costa Smeralda
Home » Gallura » Die Marke der Costa Smeralda
If the Costa Smeralda has long been synonymous with splendor and sustainability, people must thank the prince Karim Aga Khan who, since the early 60's, by acting as a real "patron", was able to attract in Sardinia, and especially in Gallura, internationally renowned artists, able with their work to influence the island's tourist architectural development.

Since 1961, the operation of Costa Smeralda Consortium, led by Prince Ismaili, has exercised a considerable influence on regional policies relating to the protection of landscape, creating, together with local authorities, the first zoning legislation restrictions already in the seventies.

Developers, architects, artists, and groups of patrons from all over the world, have worked together with the aim of transforming 5,000 acres of uninhabited and inhospitable land in the most famous and fashionable coastline in Sardinia. The insight was to maintain the pristine environment, but to make it both accessible and enjoyable through the necessary structures.

Businessmen who came to this region, also from abroad, purchased areas bordering the sea. At the same time the sensitivity to the original territory was developing, and that has meant that in the architecture respected the environment. Local authorities also contributed to this singular phenomenon, creating the first landscape restrictions already in the seventies and laid the foundations right for that '"University of Culture" that then made school in Sardinia.

The development of the Costa Smeralda, as conceived by these artists, was therefore based on genuine respect for nature conjugate with the expressiveness simple and pure of the buildings, architectural episodes thought to be unique, wisely placed in the natural environment, that far from 'be marred by their presence it is exalted by them.

Undisputed pearl and beating heart of "Costa Smeralda" is Porto Cervo, capital of wordly life par excellence. The town is an attractive natural harbor divided into two parts: the Old Port, embellished with squares, great brands boutiques, cafes and restaurants. Porto Cervo Marina, is distinguished by its exclusive Yacht Club, the largest and best equipped in the Mediterranean, with its renowned international regattas. Among the most popular places are Romazzino, Cala di Volpe, La Celvia, Cala del Faro, Cala Romantica, Liscia di Vacca, Pitrizza, the Gulf of Pevero, with its namesake and famous Golf Club. Places of great value with beaches and services open to the public.

In this corner of paradise it is hard not to be won over by kilometers of unspoilt coastline, endless landscapes and horizons where the gaze gets lost, expanses of the Mediterranean maquis; here everything speaks to the senses and the subconscious.