TROUVEZ VOTRE MAISON EN SARDAIGNE
EREN - European Real Estate Network
Immobilsarda is founding member of EREN - European Real Estate Ltd - company with legal head office in London, born with the aim of setting up a high level real estate brokerage network in Europe.
The Company consists of members who hold shares: the operational structure is based in Valencia and boasts a team of 12 translators, 1 web manager, one responsible for marketing strategy and the Board Director, comprising three directors. Immobilsarda, in the person of Giancarlo Bracco, from 2011 is Member of the Board Director of the Company.
Founded by experienced companies, characterized by the quality and integrity of their work in their respective markets, EREN reflects and exposes the high standards and business ethics of its members.
European real estate agencies are local and international leader in the sale and promotion of luxury residential properties. Together they form the only pan-European network of real estate agencies specialized in the high-end property sector.
The company boasts a portfolio of thousands of exclusive properties in excellent locations, the result of the experience and collaboration of 20 leading companies, operating in 26 offices distributed in 7 European countries, Austria, France, Germany, Italy, Portugal, Spain, Switzerland, with the addition of the office of Sarasota in the United States.
Through co-marketing activities the EREN members operate in synergy availing themselves of preferential channels which ensure an extensive geographical coverage and a modern sales network: from joint and planned advertising operations on the official magazine Villae International, to the website, events and international roadshow .
For owners who wish to sell their luxury properties, EREN opens the doors to a vast market of potential qualified buyers.
For those who want to buy a quality property, EREN eases the path, with personal recommendations, towards the best choice among property located in the most beautiful places in Europe.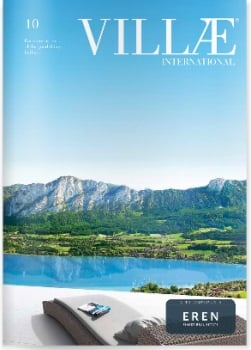 Villae International. Official magazine of EREN, in addition to the best real estate proposals of the partners, it collects and presents in a captivating way the new international luxury trend and thematic analysis, statistics and information on market trends. See the magazine.
Blog EREN. An interesting virtual showcase, always updated on the news related to the international real estate market. A space to deepen the peculiarities of the various countries, promoted by members who work there specifically, the trends and the most exclusive real estate proposals of the moment. See the blog.