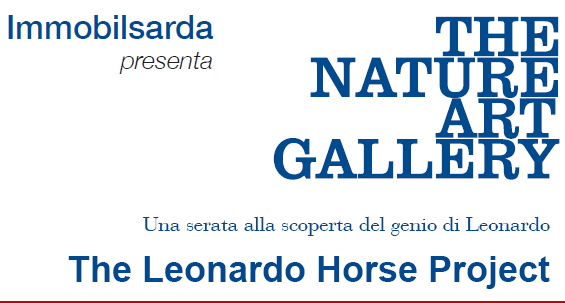 TROUVEZ VOTRE MAISON EN SARDAIGNE
IMMOBILSARDA PATRONIZES THE "LEONARDO HORSE PROJECT"
During Milano Design Week 2019, from 9 to 14 April, Immobilsarda celebrates with Snai Leonardo's Horse by patronizing the "Leonardo Horse Project", on the occasion of the 500 years from Leonardo Da Vinci's death. In synergy with Comune di Milano, Fai and MIP - Politecnico di Milano, for the 58th edition of Salone del Mobile, Snaitech will launch "Leonardo Horse Project" to promote the enhancement of Ippodromo San Siro. On April 10, there will be a preview of the 13 horses inspired by Leonardo Da Vinci's Horse and realized by artists and designers. They will be displayed inside the Ippodromo for all the Desing Week duration. Immobilsarda has decided to join this moment of celebration by housing 1 of the 13 horses, the one customized by the renowned designer Vito Nesta. We will participate to commemorate this anniversary and to honour this unique piece of art; we will participate to tell the incomparable story of an Italian excellency, that started in the XV century and arrived at this day. To patronize the "Leonardo Horse Project" is for Immobilsarda the representation of the strict bond between art, beauty, and culture, a bond that is an essential part of its mission and values: the will to unite art, beauty, architecture, respect and love for nature and environment. A research path and a vocation that has gone on for over 45 years and weaves together emotionalism and spirituality with themes like environment, art and architecture.
<< I've made of the union between art, environment and living ethic my mission. "Leonardo Horse Project", by celebrating Leonardo's work, is the synthesis of Immobilsarda and The Nature Art Gallery values. >>

These are the words of Mr Giancarlo Bracco, art lover and Immobilsarda CEO and founder.

<< The relationship between art, environment, architecture and nature is today more and more key to the charming Italian lifestyle. During Milan Design Week 2019, there will be no better occasion than the celebration of Leonardo's genius to represents Italian excellencies and artistic heritage. >>
10 April 2019: Opening Night
On the 10 of April, there will be the Opening Night of "Leonardo Horse Project", in the presence of Milan' Mayor, the highest institutional charges and prestigious international brands. The event will start at 20.30 in a private way, during which there will be a presentation of the works and their artists, a video mapping and a short speech of the Mayor Giuseppe Sala. Then, the event will be open to the public, with a DJ Set, beverage and video mapping.
12 April 2019 - A night to discover Leonardo Da Vinci with Vito Nesta The Nature Art Gallery
On the 12 of April, in our Milan Showroom, Immobilsarda will tell why has decided to patronize the "Leonardo Horse Project" and will present its Nature Art Gallery with a selection of the most prestigious new Real Estate on the Real Estate market in Gallura - Costa Smeralda. For further information >>